Huge wine bottle marks Turner Contemporary's millionth visitor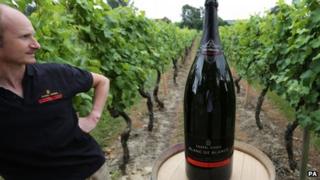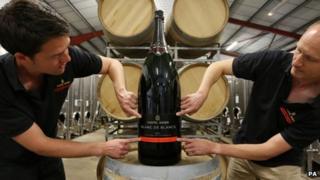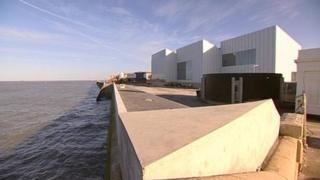 What is claimed to be the biggest bottle of British sparkling wine has been produced to mark the millionth Turner Contemporary gallery visit.
The art gallery had an annual visitor forecast of 150,000 when it opened in Margate, Kent in April 2011.
The gallery hopes to achieve the landmark later this summer and county-based winery Chapel Down has created the 15-litre bottle to celebrate.
The bottle is to go on display at the gallery until mid-September.
The 26kg Nebuchadnezzar of 2007 Blanc de Blancs holds the equivalent of 10 magnums, 20 regular bottles, or 120 glasses of sparkling wine.
The bottle will tour bars and restaurants around the country when Curiosity: Art and the Pleasures of Knowing, the Turner's summer exhibition, ends in mid-September.
It will then be auctioned off with a reserve price of at least £10,000. The proceeds will go to the gallery.
The £17.5m gallery was opened by artist Tracey Emin, who grew up in Margate, and musician and presenter Jools Holland, whose grandmother lived in the town, in April 2011.
It built on the spot where the painter JMW Turner used to stay when he visited the town.