Balcombe fracking protests: 1,000 new activists expected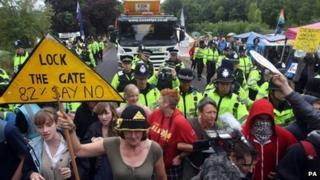 Up to 1,000 extra anti-fracking activists are expected to join existing protests in West Sussex this weekend, according to police.
No Dash For Gas campaigners plan to hold a six-day "action camp" near Cuadrilla's oil exploration site at Balcombe from Friday.
The campaigners have vowed to stop the drilling during their so-called Reclaim Power protest camp.
Activists have previously stopped lorries getting on to the site.
The police have warned protesters they face arrest if they break the law.
The energy firm is drilling a 3,000ft (900m) vertical well and a 2,500ft (750m) horizontal bore, but has said any fracking for shale gas in the area would need fresh permission.
'Facilitated protest'
The force said officers were preparing for an "influx of up to 1,000 extra protesters this weekend" for the camp.
"We are acutely aware of the impact that this is having on the residents of Balcombe and back their call to protesters not to engage in any criminal activity in the pursuit of their aims," said Supt Lawrence Hobbs, of Sussex Police.
"Indeed, our engagement with Balcombe people who are protesting at the site and the vast majority of those who have travelled from further afield has been mutually rewarding and we have been able to facilitate their right to assemble and protest.
"This is enabling us to keep disruption to the local community to a minimum possible level, while maintaining the difficult balance of meeting the rights and wishes of all those involved."
He said the force would continue to "facilitate" peaceful protest and he urged protest organisers to contact the police so the demonstration could be managed safely.
'Serious concerns'
A spokeswoman for No Dash For Gas said: "Reclaim Power is responding to the call for support from the community in Balcombe opposing fracking.
"The participants share their serious concerns about the environmental and social impacts of fossil fuel extraction in their area."
On Wednesday, Cuadrilla said its exploration site at Balcombe was "unlikely" to become a full production location in the future.
It said work could end on the boreholes in a few months, if people let it "get on".
But campaigners and residents said they were taking that news with "several tablespoons of salt".
Meanwhile, eight people appeared before Crawley magistrates on Wednesday charged with causing disruption during anti-fracking protests at Balcombe.
All the defendants, who are accused of placing a log in the road and blocking access to the site, denied the charge.