East Sussex amputation figures prompt diabetes review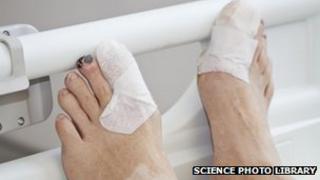 Health officials have ordered an urgent review of diabetes services in part of East Sussex after figures showed a high amputation rate among diabetics.
Diabetes UK says the rate in Eastbourne, Hailsham and Seaford is well above the national average.
And it says a failure to check the feet of inpatients with diabetes is likely to have contributed to the situation.
The area's clinical commissioning group has promised an "urgent review" to investigate the figures.
The group said in a statement: "We have set up an urgent audit... to evaluate current practice on primary care, in the community... and within the hospital."
'Vulnerable' hospital patients
Diabetes UK, a charity representing and advising people with the condition, flagged up the Eastbourne area's record because the amputation rate was so high.
Senior policy officer Nikki Joule said the number of diabetic inpatients at Eastbourne District General Hospital who did not receive a foot check was shocking.
"People with diabetes are over 20 times more likely to have an amputation than the rest of the population," she told the BBC.
"And people in hospital are particularly vulnerable. Some people can actually develop a foot problem when they are in hospital if they have diabetes - even if they weren't admitted for a foot problem in the first place."
Rapid deterioration
A characteristic of people with diabetes is a loss of feeling in their feet, which can lead to infections and other problems going unnoticed until amputation is necessary.
The charity's regional manager for the South East, Jill Steaton, said: "Diabetes-related foot problems can deteriorate in a matter of hours, so not seeing a specialist team quickly can literally be the difference between keeping your foot and losing it."
She said the amputation rate within the health area was 4.2 per 1,000 people with diabetes, compared with an overall average in England of 2.6.
And the number of diabetic inpatients seen by a foot specialist within 24 hours of admission was 22.2% - against the average for England and Wales of 53.7%.
The CCG said it was grateful for Diabetes UK's analysis and promised a comprehensive investigation.