Balcombe anti-fracking protesters put on music event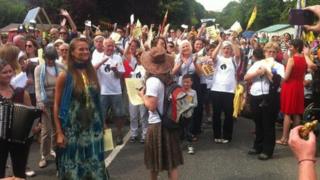 About 200 people have gathered in West Sussex for a music event as part of an anti-fracking campaign, police said.
Protesters fear test drilling for oil in Balcombe could lead to hydraulic fracturing, or fracking.
Cuadrilla is drilling a 3,000ft (900m) vertical well and a 2,500ft (750m) horizontal bore south of the village in a search for oil.
A stage was been set up for the music event, and the B2036 was closed between Balcombe and Cuckfield.
Campaign group No Dash for Gas said it was planning a 28-day rolling blockade in protest at the site.
There have been arrests throughout the summer, with more than 30 people arrested during the Reclaim the Power camp organised by No Dash For Gas.
While this protest took place, Cuadrilla scaled back its operation on advice from police. Drilling recommenced on 21 August.
Sixty people in the village have signed a letter backing the practice of fracking.
But the BBC's Simon Jenkins said some residents of Balcombe village had joined protesters for the event.