Balcombe oil drilling plans 'went unnoticed' at meeting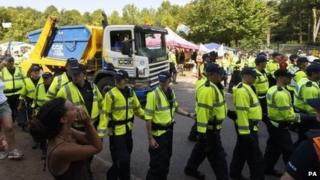 Details have emerged of a parish council meeting where plans to carry out test drilling in Sussex by energy firm Cuadrilla were overlooked.
BBC South East Today has learned how a letter informing the parish council of the proposals was not recognised as a planning application.
Balcombe Parish Council did not discuss the plans before telling West Sussex council it had no objections.
The county council later approved plans for oil exploration at Balcombe.
High-profile protests have been held at the drilling site amid fears of fracking, with more than 1,000 people taking part in a Reclaim the Power camp last month.
The site is owned by parish councillor Simon Greenwood.
'Recorded as correspondence'
Parish council vice-chairman Rodney Saunders said members received the application in 2010 but did not discuss its detailed contents and did not recognise its significance.
He said: "We didn't, to be honest, recognise it because it didn't come from the usual source or in the usual format that planning applications come to us for consideration.
"It was recorded as incoming correspondence and appeared in what we call our correspondence box."
He added: "With the wisdom of hindsight, if we had known then what we know now, we should have scrutinised that application with very considerable care."
But he said the issue was raised at the meeting by Mr Greenwood, who owns the 3,500-acre Balcombe Estate where Cuadrilla wanted to drill.
Mr Saunders said: "One of the items on our standard agenda is dealing with correspondence and there is a box in the middle of the table with all items of correspondence in it, and we've all had advance warning of what's in the box.
"It was under that item that he drew our attention to this particular letter which had not - and I repeat - which we had not really recognised as a consultation on planning."
Experts told BBC South East Mr Greenwood had no obligation to declare an interest but Mr Saunders said if the councillor had suggested he sit out any discussion on the issue it "might have alerted us to the fact that this was something more significant than we realised at the time".
Mr Greenwood declined to be interviewed by the BBC but his land agent said: "In the context of this it was a notification of an application to the county council which wasn't on the agenda and in fact no comment would have been made at all.
"Nor would anyone in the parish council have noticed it was happening had Mr Greenwood not actually said at the end of the meeting 'by the way you ought to look at this letter from the county council because it refers to something happening on my land which the parish council ought to be aware of'."
'Advanced recovery techniques'
In a written statement, Mr Greenwood said: "The application by Cuadrilla was not on the agenda for discussion at the parish council meeting in 2010.
"I was at the meeting when it appeared as correspondence received. I do not recall hydraulic fracturing being mentioned in the application, which spoke of advanced recovery techniques.
"In any case, as it referred to an application on my land, I drew my fellow councillors' attention to the letter from the county council, and indicated that Caudrilla wanted to repeat the test well drilled by Conoco [in 1986], which is exactly what has been permitted.
"If I had not drawn my colleagues' attention to the letter it would not have even been discussed, but as it was the parish quite rightly decided it did not have the necessary expertise to comment."
Local government expert Professor Colin Copus, from Leicester's De Montfort University, said: "When an application comes to the parish you would expect all members, all elected members, to be made aware of that application.
"Now it could be a fairly significant application as we've got in this case.
"What a parish does or what maybe their moral responsibility should be, shall we say, is to make sure that members are aware that that application has come in and to give them an opportunity to cast their judgement on it."
The parish council has apologised for failing to raise any objections and has also made public its opposition to fracking.
West Sussex County Council has confirmed the planning application and supporting documents were sent in full to the parish council.