Greece speedboat crash victim Holly-Ann Schofield back in UK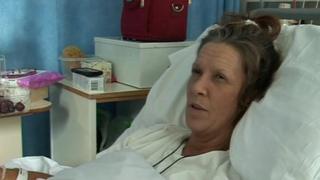 A woman who nearly died after being hit by a speedboat in Greece has returned to the UK.
Holly-Ann Schofield, from Hove, East Sussex, had been living and working in Rhodes for 18 months when she sustained life-threatening injuries, on 1 August.
A Facebook campaign by friends and family raised £15,000 to bring her back.
Ms Schofield, who is recovering in Brighton, said the crash was a "freak accident".
Her medical treatment was covered by her E111 European Health Insurance Card (EHIC) but, because she was living in Rhodes, she did not have insurance to cover her flight back to the UK.
'Out of my mind'
Her family wanted to bring her back to the UK to look after her.
"When I got to Heathrow and got off the plane the final time, that was it - I just burst into tears," Ms Schofield told the BBC.
"It was just the sheer release of the last five weeks and being back on English terra firma."
Four days after the accident, Ms Schofield was flown to Athens for emergency surgery on a punctured lung and fractured spine.
Her mother Ann, said: "We've never had a real ghastly accident like this in all our lives and I was just thunderstruck and out of my mind really."
On 21 August her daughter regained consciousness, having been in a medically induced coma for three weeks.
"I was swimming in a very familiar area, I'm a very good swimmer, it's a place where I swim all the time, I'm well known for swimming there and other people swim there," Ms Schofield said.
"I think it was just one of those freak accidents."