Brighton campaigners 'could run 1930s Saltdean Lido'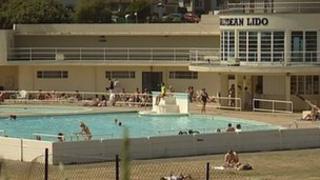 Campaigners who fought for Brighton's 1930s Saltdean Lido to be restored could be offered the chance to run it.
Brighton council said the group Save Saltdean Lido, which became a community interest company, is the provisional preferred bidder to take on a long lease to operate the pool.
The council said the move depended on various issues being resolved. It said the reserve bidder was Freedom Leisure.
Councillors will consider the plan on Thursday.
The campaigners wanted to restore the Grade II*-listed building, heat the pool water to extend the season, and provide a gym, cafe, community areas, library, a heritage and education room, the council said.
Chairman of the economic development and culture committee, Councillor Geoffrey Bowden, said the council had received two very good bids and it was now a question of getting to a position where a long-term lease could be granted.
'Ready for challenge'
Papers to be submitted to the meeting said restoration would require any lido operator to secure a lottery grant and until this happened it was likely the site would remain closed.
The previous operator handed the lido back to the council in 2012 and the building has not opened since.
The council said it had spent about £100,000 on emergency repairs and maintenance.
Rebecca Crook, community interest company chairwoman, said: "After a three-and-a-half year campaign, we are overjoyed, however this is now the start of even more hard work, but we are ready for the challenge ahead."
She said the building had serious structural issues and needed millions of pounds spent on it, but the group was confident about the future.