Rudyard Kipling's seaside home in Rottingdean for sale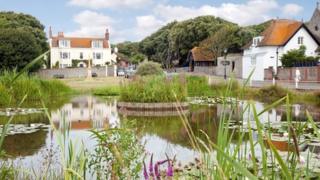 One of Rudyard Kipling's former Sussex homes is up for sale with an asking price of nearly £1.6m.
The writer and poet lived at The Elms, in Rottingdean, near Brighton, between 1897 and 1902 before moving to his country home, Bateman's, in Burwash.
The Elms, a five-bedroom detached home which Kipling rented for more than five years, is being sold privately.
The property, with views over the sea, is described by selling agent Winkworth as a place of great historic interest.
Kipling, his wife Carrie and their daughters Josephine and Ellie, moved to Rottingdean shortly after returning to England from the US.
Listed building
They stayed initially at North End House, the holiday home of his aunt Georgiana and uncle Sir Edward Burne-Jones, before moving across the village green to rent The Elms.
During their time there, Kipling added The White Man's Burden and Stalky & Co to his burgeoning body of works.
But the family moved away from their seaside haven after one of the children died from pneumonia, settling more than 20 miles away at Bateman's, in the heart of the East Sussex countryside.
The Elms, a grade II listed four-storey detached house, has five bedrooms and two bathrooms, as well as a modern kitchen and linked dining room, a study and reception rooms.
The highly regarded gardens in which the house once stood were bought by Rottingdean Preservation Society in the 1980s and handed to Brighton and Hove City Council for public use.