Orchid View inquest: Pharmacist 'sickened by care home'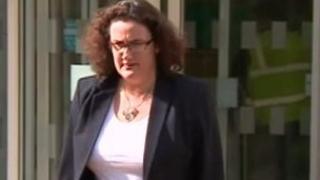 A pharmacist was physically sick after carrying out checks at a Sussex care home which saw a series of deaths, an inquest has heard.
The hearing in Horsham is into the unexplained deaths of 19 residents at Orchid View in Copthorne, near Crawley.
Emma Campbell, from Boots, which supplied the home with medication, said she had concerns for the residents.
She said the treatment room was filthy and chaotic and one patient had gone without medication for four days.
'Failing care home'
Orchid View, which has since closed and reopened under a new name and new management, was run by Southern Cross.
Ms Campbell told the inquest there were gaps in patient charts where medication had not been administered correctly.
She said she brought the issues up with a senior staff nurse who was "blasé" and seemed not to care.
She said clinical manager Michael Lindo was distracted and she could not raise concerns fully with him.
Ms Campbell said that on leaving the care home after her visit: "I was physically sick in the car park."
Later, the inquest heard from the former regional manager Sarah O'Mara who denied claims she did not make enough visits to Orchid View, and also denied there was a policy of having no agency workers because of financial constraints.
The coroner said to her: "I haven't heard you take responsibility at all."
Ms O'Mara replied: "I was their manager. I supported whenever I was needed and went to the homes when I was needed."
When asked by the coroner who was responsible for the failure of Orchid View, Ms O'Mara replied: "The people who knew it was failing."
And asked if she did not know Orchid View was failing, Ms O'Mara said: "Reports that came in were dealt with."
The inquest continues.