Investigation into 'bright green' stream near Balcombe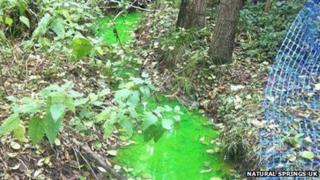 A stream near a test drilling site and anti-fracking protest camp in West Sussex has been tested for pollution after it appeared to turn bright green.
The Environment Agency said it took samples from Balcombe Green stream near energy firm Cuadrilla's site.
It said no dead fish or invertebrates were found at the scene there was no evidence of sewage in the water.
All the "likely pollution sources within the area" have been eliminated, according to the agency.
It is awaiting the results of more tests to try to determine what the substance is and where it has come from.
'Monitor the situation'
In a statement, the Environment Agency said: "We cannot at this stage rule out the possibility that a dye had been put into the watercourse deliberately. Our main priority is to ensure that there is no detrimental impact on the environment.
"Our investigation has revealed no negative impact to wildlife or water quality and we will continue to monitor the situation."
Earlier the agency said the pollution, which was first reported on Tuesday, had been traced to a culvert under a railway line.
Cuadrilla removed its drilling equipment and left the site last week. Activists are currently clearing tents, banners and other structures from the roadside near the drill site after two months of demonstrations.
More than 1,000 activists, who feared the test drilling could lead to hydraulic fracturing - also known as fracking - at the site, set up camp at the height of protests in Balcombe in August.
The boreholes have been closed off while the energy firm seeks fresh planning permission to flow-test the well to see if oil can be extracted.