Brighton and Hove Albion unveil £55m accommodation plan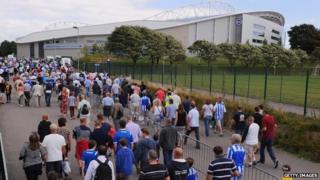 Brighton and Hove Albion have unveiled £55m plans to develop the area around their stadium in a bid to get the team "playing at the top level".
They want to build a 120-room hotel and accommodation for 850 students near the Amex stadium at Falmer.
Chief executive Paul Barber said the scheme could create 200 jobs and help them compete with other clubs hoping to get into the Premier League.
The club hope to talk to the council over the lease of the land soon.
Mr Barber said: "We are constantly looking at ways we can continue to grow the club, its revenue streams and ways to help progress our ambition of the Albion playing at the top level - and Martin [Perry] and his team have put together outline plans for the two developments.
"Being able to accommodate guests overnight is a key factor in this business sector, and this would enable us to significantly strengthen and build our non-matchday events revenue through the stadium.
"Just as we want to build our fan base, we also aim to attract new business in this way, because the stronger our revenue streams, the more competitive we can be in the transfer market and ultimately on the pitch.
"The more creative we are and the more we look to build these types additional revenues, the less we have to keep relying on our loyal supporters."
An application for the club to be allowed to start negotiations with Brighton and Hove City Council about the lease of the land will be discussed by councillors on 17 October.
The football club moved into the £93m stadium at Falmer in July 2012, ending 14 years of a nomadic existence.
Work is currently under way on a £23m training academy in Lancing, which will include 12 pitches and changing and treatment rooms when it is finished.