Balcombe anti-fracking eviction talks held by council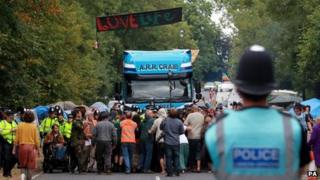 Council bosses have met to discuss how to remove anti-fracking protesters from a roadside verge in Balcombe, West Sussex.
It comes after the High Court granted a possession order to West Sussex County Council (WSCC) for the B2036 site.
Campaigners set up camp during the summer to oppose test drilling for oil, amid fears it would lead to fracking.
At the height of the protest, the site attracted more than 1,000 people but two are still there.
Sussex Police said seven protesters were at the site on Monday in one caravan, one structure and one tent.
BBC correspondent Mark Norman said two were still there, earlier.
'Dangers increasing'
Stephen Jackson, who has been camping in a tent at the site since 29 July, said he was determined to stay.
"I'm here for the interests of my family and everyone's health, because of fracking," he said.
"I'm here for the duration. I have told the parish council. We are not moving yet."
He said he and another protester were planning to appeal against the court ruling.
He said the council had put forward a separate protest area on the roadside that had barriers, but no camping was allowed and the campaigners could only use gazebos for shelter.
But he added he would stay there "forever" if he could, even through the winter.
"We are being looked after by the locals and passing motorists who are dropping food off and supplies," he said.
After the possession order was granted on Monday, WSCC promised "an early decision" on how to enforce the order.
It said action was only being taken in the interests of the safety of road users and the demonstrators.
The council said the B2036 was an unlit road with a 60mph limit.
The local authority said it had provided a designated area where people could gather if they wanted to continue their protest, but camping would not be permitted.
'Exploration continues'
In said: "This is designed to strike a careful balance between maintaining road safety and people's right to demonstrate peacefully."
During the summer, Cuadrilla drilled a 3,000ft (900m) vertical well and a 2,500ft (750m) horizontal bore in its search for oil, but said any fracking for shale gas in the area would need fresh permission.
The company dismantled its equipment in September but submitted a request to WSCC for permission to test the flow rate of extraction at the well.
This month, the firm signed a new 30-year lease on the land to allow it to continue exploration work.