Brighton campaigners win fight to run Saltdean Lido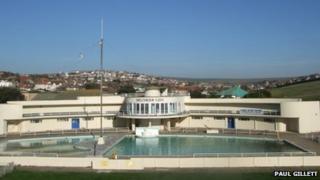 Campaigners have won their three-and-a-half year fight to run and restore Brighton's dilapidated Saltdean Lido.
Plans were announced in 2010 to partially demolish the 1930s Grade II* listed complex and build flats.
Brighton and Hove councillors have now approved proposals to give the Saltdean Lido Community Interest Company a 60-year lease to operate the pool.
Chairwoman Rebecca Crook said its aim was to bring the site "back to life and to get people using it again".
The lido is on English Heritage's at risk register, and Ms Crook said one of the main objectives was to get it removed.
Ice-rink
She added that there had been a full structural survey on the building that showed more than £1m worth of work needed to be done "quite quickly".
"The whole refurbishment programme in terms of what we'd like to do is in excess of about £5m.
"We're hoping the bulk of that money will come from the Heritage Lottery Fund," Ms Crook said.
Paul Zara, director of Conran & Partners Architects, which is involved in the scheme, said the building was "in a terrible state" and there was a lot of work to do.
"There's much more work to do than anybody thought," he said.
"But we'll get the first floor terrace open again, and you'll be able to use the rotunda restaurant."
Mr Zara said the site would be used all-year round, with plans to turn the swimming pool into an ice-rink during the winter.