Brighton councillor rapped over golliwog comment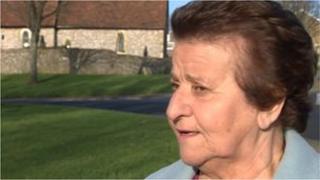 A Brighton councillor who told a newspaper reporter that golliwogs were not racist has been disciplined.
Councillor Dawn Barnett was found to have broken the council conduct code.
But Ms Barnett, who had commented about a shop selling golliwog drinks mats, said a disciplinary panel should not have happened and defended her remarks.
Brighton council said she inadvertently broke the code, which says members should not bring their office or the authority into disrepute.
The city's black history group said Ms Barnett's comments were offensive.
'Trivial thing'
Ms Barnett said she was asked for an opinion by the Argus about a shop that was selling the mats
"I said I can see no harm in them. They are nostalgic, I'm 72 years old. My generation grew up with them."
She added: "Racist was never even talked about when I was a child. Racist was not a word we even knew."
Ms Barnett said of the council's action: "I don't believe it should have ever got this far.
"The expense to the council taxpayers and the time, the hours and hours of officers' work, for basically nothing, for a trivial thing."
The councillor for Hangleton and Knoll said: "If I upset anybody, or I've insulted anybody, I apologise."
'Racist term'
Bert Williams, from Brighton and Hove Black History Group, said the word "golliwog" was historically used to tease black people.
"I had personal experience in the 1960s," he said.
He said people used to tear golliwog labels off Robertson's jam jars and stick them on people's backs.
"You were walking around with it all day not knowing you've had this golliwog on your back.
"It was used to tease us and it was used as a racist term."
A decision notice issued by the council's standards panel said it accepted Ms Barnett had not intended to cause offence and that she had agreed to undertake equalities training.