Seaford beach 'dangerously inadequate'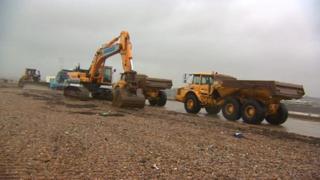 Recent tidal surges and high waves have left a town in East Sussex in a particularly vulnerable position, the Environment Agency has been told.
Local MP Norman Baker said the old sea wall and wooden groynes at Seaford, which had been buried under shingle since 1987, had now been exposed.
"Seaford beach is looking dangerously inadequate to protect the town," he said, adding it had been "eaten away".
The agency said its officers were "working 24/7 to reshape the shingle".
In response to Mr Baker's comments, it tweeted that dumper trucks would be on site on Tuesday and it was doing all it could to protect Seaford.
However, the continuing stormy conditions meant contractors had to call a halt to their operations during the morning.
Cliff erosion
The agency said it would resume its work as soon as the weather permitted.
In a letter to the agency, the Liberal Democrat MP for Lewes expressed concern for properties close to the beach if work was not done to reinforce the area against the elements as part of coastal management plans in the future.
"Fortunately, so far the stormy weather has caused little in the way of property damage or personal injury to my constituents in Seaford, but this looks more like luck than judgement," he said.
"Nevertheless, I am very concerned by the rate that the stormy seas have eaten away at the beach, which is of course the primary flood defence for the town.
"Events like this are predicted to become more common because of climate change, action must be taken to restore the strength of the beach," Mr Baker said.
Last week, part of the cliff edge at Seaford Head collapsed following several other recent falls along the coast.
In January, more than 9ft (3m) of the cliff at Birling Gap - part of the Seven Sisters chalk cliffs - fell into the sea during a tidal surge that hit the south coast.
The cliffs usually erode at a rate of about 2ft (0.7m) a year.
Barriers were put up along the edge of the cliff to ensure the safety of walkers.
Since last week a fence has closed off access to the front of the cafe and shop, which are still open, while the sun lounge area of the cafe was taken down due to concerns about the continuing erosion.
Steps leading to the beach have also been closed off as they are awaiting repairs.
Jane Cecil, general manager for the South Downs, said the sun lounge and ice-cream parlour were being removed following further cliff falls at the weekend "to conserve the rest of the building".