Singer's daughter Natalie Hynde 'superglued in fracking protest'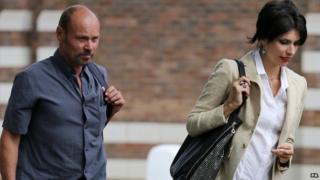 The daughter of musicians Ray Davies and Chrissie Hynde glued herself to a fellow anti-fracking protester outside an oil test site, a court has heard.
Natalie Hynde, 31, and Simon Medhurst, 55, both deny a charge of "besetting" Cuadrilla's test drilling site near Balcombe, West Sussex.
Brighton magistrates heard they superglued their hands together while Mr Medhurst had his arm round the gate.
The alleged incident happened during anti-fracking protests on 31 July.
Prosecutor Jonathan Edwards said a team of police officers who specialise in dealing with protesters used a solvent to release the pair.
After being freed, Mr Medhurst said words to the effect of: "Good result. Looks like we managed to delay Cuadrilla for two hours", the court was told.
"Fracking, as you may know, is a controversial practice," said Mr Edwards.
"It has attracted a good deal of publicity, both local and national, and as a result demonstrators had formed a large crowd round the entrance of the site."
'No legal right'
One of the conditions imposed on Cuadrilla for using the site was to allow 24-hour access for emergency vehicles but the pair's actions prevented staff and contractors working, he added.
In a defence statement, Mr Edwards said the pair claimed Cuadrilla had no legal right to undertake work at the site due to irregularities in obtaining licences.
Both defendants said they were exercising their rights under Articles 10 and 11 of the European Convention on Human Rights.
Hynde, of Paynton Road, St Leonards-on-sea, East Sussex, and Medhurst, of High Street, Hastings, are on trial with three other defendants.
Robert Basto, 65, of Blackborough Road, Reigate, Surrey, denies obstructing the highway, obstructing a police officer in his duties, besetting and getting on to a moving tanker.
Nichola Sanger, 44, of Willow Way, Hurstpierpoint, denies besetting and Jamie Spiers, 29, of Auckland Road East, Southsea, Hampshire, denies the same charge and obstructing a highway.
The trial continues.