Natalie Hynde Balcombe superglue demo 'to get good photo'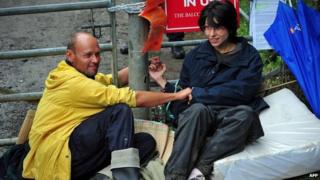 The daughter of musicians Ray Davies and Chrissie Hynde has been found guilty of "besetting" a test drilling site in Balcombe after she superglued herself to another protester.
Natalie Hynde, 31, told Brighton magistrates her aim was to create a "striking and symbolic" media image.
She and Simon Medhurst, 55, both denied wrongdoing at the site in Sussex during anti-fracking protests on 31 July.
However, the judge ruled they "went beyond reasonable freedom of speech".
The district magistrate, William Ashworth, told Medhurst and Hynde: "I'm sure that you did beset, in the true meaning of the word, the Cuadrilla site by locking yourselves round the gate and thereby controlling access to the site."
The court heard the pair cost the firm £5,000 through delaying deliveries on to the site.
Giving evidence, Hynde said she wanted to raise public awareness about the controversial method of fracking, which is used to extract natural gas from underground shale rock.
'Wanted to look peaceful'
She said: "The purpose of it was to create an image in the media that would be striking and symbolic of the lock-the-gate process, and raise the profile of fracking."
Questioned by her lawyer Srikanatharajah Nereshraaj, she said an idea to dig a tunnel at the site did not go ahead, and the use of superglue was proposed instead.
She said: "I wanted it to look peaceful, with the hands around the gate, and superglue seemed fast.
"I hadn't done it either, so I thought it would be a good thing to try."
Hynde told the court she tested the glue but could not tell how long she would remain stuck to Medhurst.
She said: "I knew it would last long enough to get a good photo, and I knew there were press there."
She added it was not their intention to obstruct access to the site, but said: "If it did, then great. That wasn't the intention."
And she said: "I didn't think that it would be possible for two people to delay in any meaningful way. It was for a snapshot, and hopefully get more interviews after that."
'One step further'
Cross-examining, prosecutor Jonathan Edwards asked if she would have gained just as much media exposure without the superglue, because of her famous parents.
Hynde confirmed who her parents were and said: "If you are saying that holding a placard is enough, then it isn't.
"I have done those things and I wanted to take it one step further."
Hynde, of Paynton Road, St Leonards-on-Sea, East Sussex, was given a concurrent 12-month conditional discharge, and ordered to pay costs of £400 and a £15 victim surcharge.
Medhurst, who has three previous convictions, was fined £200, and told to pay costs of £200 and a victim surcharge cost of £20.
The pair stood trial alongside three other defendants - Robert Basto, 65, of Blackborough Road, Reigate, Surrey; Jamie Spiers, 29, of no fixed address, and Nichola Sanger, 44, of Auckland Road East, Southsea, Hampshire, who also denied charges relating to the Balcombe protest.
Basto was convicted of obstructing the highway and acquitted of obstructing a policeman, Sanger was cleared of besetting the site by blocking its entrance and Spiers will be dealt with later after he failed to attend court.