Sex abuse priest Gordon Rideout's release bid rejected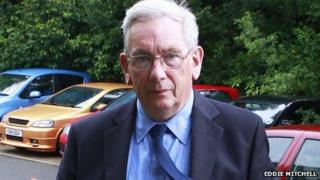 A priest who was jailed for sexually abusing children has had his application for release from prison on compassionate grounds rejected.
Canon Gordon Rideout, from Polegate, East Sussex, was jailed for 10 years in May for 36 separate sex offences.
The priest, in his 70s, abused 16 children between 1962 and 1973, in Hampshire and Sussex.
BBC South East learned he was recently released from prison to attend hospital on a temporary licence.
'Utter disgust'
He later returned to jail. The Ministry of Justice said the nature of his hospital treatment was confidential.
One of his victims said she felt anguish at Rideout's "obvious ploy to manipulate the system" with his application.
Another victim expressed his "utter disgust and disbelief" at the news he had applied for release.
"Did this man ever show any compassion for his young victims - did he ever show any compassion for all of us that had to stand up in court and had our very unhappy childhood laid bare?" he said.
Rideout carried out 34 indecent assaults and two attempted rapes, most of them at Ifield Hall children's home in Crawley, when he was an assistant curate.
Four of his convictions were for indecent assaults on two girls at the Middle Wallop army base, Hampshire, where he was a padre at St Michael's Church.
The Ministry of Justice said it could not discuss individual applications for compassionate release, and medical details were confidential.
A spokeswoman said a request for release on compassionate grounds could be granted if a prisoner had a terminal illness and was likely to die soon, or was bedridden or severely incapacitated.