Brighton and Hove playground cuts 'could lead to accidents'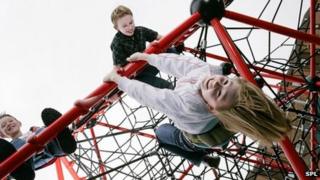 Proposed cuts to playground inspections in Brighton and Hove could lead to more accidents and compensation claims, the GMB union has claimed.
In its proposed budget, the Green-led council sets out a plan to save £40,000 by reducing "weekend park duties", cutting weekend inspections.
GMB said it also feared rubbish would go uncleared and damaged equipment unreported.
Labour claims the money can be saved by cutting the tree-planting budget.
An investigation by BBC Sussex has revealed that councils across Sussex paid out a total of £93,000 in compensation for more than 140 accidents in their play areas over the last five years.
Brighton and Hove City Council has paid out £23,500 in compensation for injuries in playgrounds during the same period.
The council said weekend inspections would not be cut in Preston Park, city centre parks, and that the cleaning of sports pavilions would be protected.
The budget has yet to be agreed by councillors.