Birling Gap cliff fall threatens cottages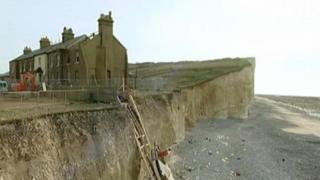 A section of the chalk cliff at Birling Gap in East Sussex has fallen into the sea, leaving a row of former coastguard cottages perilously close to the edge.
The cliffs - between Seaford and Eastbourne - have already suffered about seven years' worth of erosion since January.
The National Trust said rain over the weekend had led the cliff face to erode back to the side of the end cottage.
Spokeswoman Jane Cecil said it was in contact with the owners of the cottage.
"The National Trust took down the cottage that used to stand next to this one 12 years ago and we own three of the remaining cottages," the general manager for the South Downs said.
The cottage now at risk is privately owned.
Ms Cecil added: "This is at least the second set of cottages built on the cliff top at Birling Gap. The former cottages were abandoned as the cliffs eroded in the past."
Last week walkers were urged to keep away from the edge and the base of the cliff after a huge crack opened up.
The National Trust said it was continuing to monitor the situation and signs were in place advising which areas visitors should avoid.
The beach at Birling Gap has been shut since the new year after steps leading down to it were damaged in the storms.