Brighton and Hove 20mph speed limit to be extended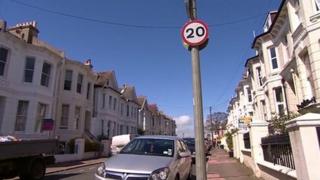 A 20mph speed limit is to be extended to nine more areas in Brighton and Hove.
Councillors at the Green-led authority voted to extend the scheme, which was introduced in the city centre in April, at a meeting on Tuesday.
The council said the limit had brought a fall in traffic speed on 74% of roads.
The new areas include parts of East Brighton and West Hove, and outside the Royal Sussex County Hospital.
Duncan Blinkhorn, from the cycling group Bike Train, welcomed the new limit.
"I think anything that makes the roads safer and feel more civilised and calmer is a great thing for the city, for cyclists but also for everyone else," he said.
Brighton council said 15,000 people took part in the consultation.
Some respondents said the lower limits were unnecessary, and that the city centre limits were being ignored.