Sussex Police crash: Tribute to Hastings car death father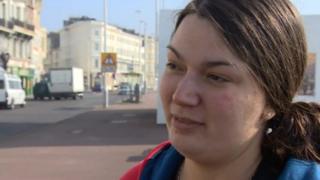 The daughter of a pedestrian who was killed by a police car in a seaside town has paid tribute to him at the scene of the crash.
James Sutton, 46, of St Leonards, was hit by the car on the A259 in Hastings, East Sussex, on Wednesday.
His daughter Chloe said she heard on a social media that a man had died on the seafront before she found out it was her own father.
She said she and her family wanted answers about how her father died.
"You get that feeling of 'can't people just let the person rest' and you know, it's no-one else's business.
"Then two or three hours later, there's a knock at the door and I find out it's my dad, out of everyone."
She said: "He liked to drink, and I expect he probably had a drink last night, and probably didn't know what was happening, [and] instantly went.
"At least there's some sort of relief knowing that he didn't suffer."
Sussex Police have said the full circumstances of the crash still had to be established and the matter was being referred to the Independent Police Complaints Commission (IPCC).
Officers in the car were responding to a report a car was being driven by a disqualified driver, police said.
'Thoughts with family'
Ch Insp Natalie Moloney added: "We are co-operating fully with the IPCC and our thoughts are with all those involved and particularly with Mr Sutton's family, to whom we are offering support at this very distressing time for them."
The force told BBC correspondent Mark Norman the driver of the police car had been injured slightly by broken glass and had been suspended from driving duties while the IPCC conducted its investigation.
Floral tributes have been left at the scene.
One card read: "Dear James, we'll always look after your little girl Chloe. Peace in the afterlife, from Clive."
'Disqualified driver alert'
An eyewitness who lives opposite the scene said emergency teams tried to save Mr Sutton.
Antiques dealer Chris Paraskeva, 61, said: "I returned home five minutes after it happened. I could see CPR being carried out on someone.
"There was a bus parked further up. There was one police vehicle and then others arrived."
He said there were 12 police vehicles in total.
"They were just working on somebody lying down, then the ambulance arrived and it went on and on and on for some time," he added.
The force said its officers and paramedics tried to save Mr Sutton, but he died at the scene.
There were two local officers in the police car when the crash happened, police added.
A Sussex Police spokesman said a BMW car, which had been reported as being driven by a suspected disqualified driver, was stopped later on the A23 at Salfords in Surrey and two men had been questioned.
The IPCC has not yet commented, but said it had received the referral and the case was being assessed.