WhaleFest killer whale model lowered into sea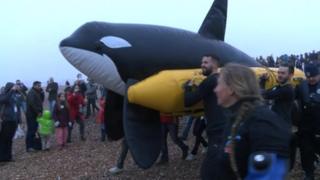 Animal rights campaigners have lowered a model of a killer whale into the sea as part of one of the biggest whale and dolphin festivals in the world.
The full-size model is aimed at highlighting the plight of whales and dolphins in captivity.
More than 10,000 people are expected to visit WhaleFest over the weekend.
The event is being held at the Brighton Hilton Metropole, where governments from around the world gathered to suspend international whaling in 1982.
In 1991, Brighton Aquarium's bottlenose dolphins were released to the Turks and Caicos Islands.
The festival, which is calling for the release of captive whales and dolphins, is due to end on Sunday.