Richard Jackson appointed as Bishop of Lewes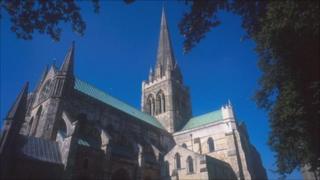 A Church of England diocese forced to apologise for past child abuse by priests has appointed a new bishop.
The Reverend Richard Jackson is to be the new Bishop of Lewes following the retirement of the Right Reverend Wallace Benn in 2012.
Bishop Benn was cleared of misconduct in 2013 after being accused of child protection failings.
Mr Jackson, 53, leader of the church growth team, said one of his key tasks was to be a "mediator".
After being ordained, he became vicar of Rudgewick in 1998 and then Rural Dean in Horsham from 2005.
Mr Jackson said of his new role: "One of my key tasks is to be a mediator and to bring people to mutual understanding.
"I really want to be a bishop to all people, it is as simple as that."
His predecessor Bishop Benn had been accused of failing to tell police about paedophile priest Robert Coles, who was was jailed for sexually abusing three boys aged from 10 to 16.
The Chichester diocese has apologised to victims of clerical abuse. The apology was endorsed by the Archbishops of Canterbury and York and the Church's General Synod.
Mr Jackson will first be ordained as bishop in Westminster Abbey in May before he can take up the position of Bishop of Lewes.