Birling Gap cottage demolition begins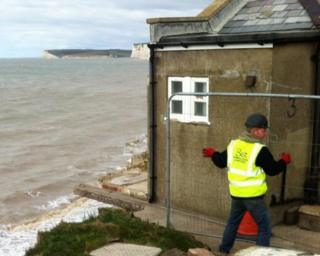 Work to demolish a coastguard cottage in danger of collapsing onto a beach has begun in East Sussex.
Several houses at the site at Birling Gap have moved near to the edge after a series of cliff collapses.
Many have already been demolished as the cliff edge has drawn closer to the terrace of homes.
The latest house to be taken down is just 6in (15cm) from the cliff edge. The cottage once formed a terrace of seven ex-coastguard properties.
Two cottages were demolished in 1994 and in the early 2000s.
Graham Kean, of Wealden District Council, said the next cottage would only have up to 10 years before it would also succumb to erosion.
Mark Hodgson, of the contractors Best Demolition, said: "Most of the work will be carried out from large cherry pickers, so we don't have to put anyone on the ground around the outside of the building, because the cliff could really go at any time."