Two new primary schools planned for Eastbourne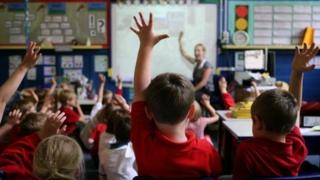 Plans for two new primary schools are being considered to fill a shortfall in places expected over the next 10 years.
The schools for more than 800 children would be built on the Cavendish and Ratton secondary school sites in Eldon Road and Park Avenue, Eastbourne.
The Cavendish school plan replaces an earlier scheme to provide new places at St Andrew's C of E Infant School and Tollgate Community Junior School.
It would be run by the academy trust behind the existing secondary school.
East Sussex County Council said it reconsidered the plan to expand St Andrew's and Tollgate, approved last year, following concerns about the constraints of the St Andrew's site and the available budget.
'Sufficient places'
Funding for the Cavendish scheme, estimated between £7m and £8m, has been set aside by the council.
A feasibility study is still to be carried out for the Ratton School site.
"We are forecasting a significant shortfall for primary school places in Eastbourne which could last into the next decade," said a council spokesman.
"We need to take action now to ensure we have sufficient places in the future."
The schemes are expected to be agreed by councillor Nick Bennett, cabinet member of schools, on Monday.
They would still have to get planning approval and government consent.
The first school is expected to open by September 2015.