Brighton teenager charged with attempted murder of two women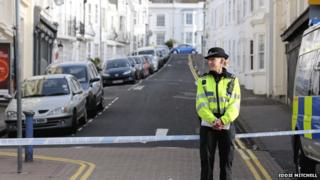 A teenager from Brighton has been charged with attempted murder after two women were stabbed in their home.
Connah Smith, 19, of Vernon Terrace, is accused of attacking two women, aged 21 and 20, in Brighton at the weekend.
He was also charged with false imprisonment of the women.
The pair were treated in hospital after flagging down a police car in Western Road at 03:15 BST on Sunday. Mr Smith is due to appear at Brighton Magistrates' Court on Tuesday.