Abdullah Deghayes's mother pays tribute to 'naive boy'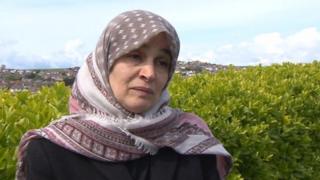 The mother of a teenager who was killed in Syria has paid tribute to "a naive, brave boy".
Abdullah Deghayes, 18, from Saltdean near Brighton in East Sussex, was reportedly fighting with a militant group when he was shot.
His brothers Jaffar, 16, and Amer, 20, are still thought to be in Syria, having gone there with an aid convoy in October.
Einas Abulsayen said her dead son was a "very naive, very helpful, brave boy".
Abdullah left for Syria in January without telling his mother.
A few months later, he was dead, apparently killed fighting against President Assad's forces with a militant group linked to Al-Qaeda.
"Definitely he is in a better life," Ms Abulsayen said.
"Lots of people ask to have death but this is chosen from God.
"You can't say about my sons they are terrorists, never ever," she added.
British counter-terrorism police chiefs are making an unprecedented appeal to Muslim women to persuade their relatives not to go to Syria to fight, staging co-ordinated events in London, Birmingham and Manchester.
Abdullah's family is urging the remaining brothers to come home.
Amani Deghayes, their aunt, said: "I don't think they understand how dangerous it is, I don't think they understand the repercussions of such a stunt that they've pulled, running away.
"And I think there's a bit of rebellion there, which is quite common at that age, but they're just playing with really dangerous things."
Their father Abubaker Deghayes previously told BBC Sussex that he followed his sons to Turkey but they had left with their passports. He tried to persuade them not to go to Syria.
"They were very adamant and insisted - they wouldn't listen to me," he said.
"You can't tie him up or force him [to stay]."
Over the past three years, more than 100,000 Syrians have lost their lives in the escalating conflict between forces loyal to President Bashar al-Assad and those opposed to his rule.