Bosham artist's family appeal to find Valerie Graves killer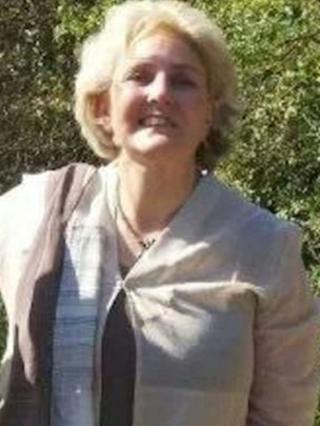 The family of an artist who was murdered as she house-sat over Christmas, have made a television appeal to catch her killer.
Valerie Graves was found bludgeoned with a hammer in the village of Bosham, near Chichester, on 30 December.
The 55-year-old was murdered while house-sitting with her mother, sister and her sister's partner while the owners holidayed abroad over Christmas.
A reconstruction and fresh appeal have been shown on the BBC's Crimewatch.
Ms Graves's son, Tim Wood, said it had been his mother's birthday over the festive season, so they had a double celebration on Christmas Day.
Her daughter, Jemima Harrison, said: "We always did Christmas as a family - birthday celebrations in the morning and Christmas in the afternoon.
"She liked having the grandchildren round for Christmas."
Ms Graves, who had recently moved back to Sussex from Scotland to be closer to her family, went to bed at the property in Smugglers Lane at 22:00 GMT on 29 December.
She was found dead in the bedroom by one of her relatives at about 10:00 GMT the next day.
'History of violence'
A post-mortem examination revealed she had suffered head and facial injuries.
Her sister's partner, Nigel Acres, told Crimewatch: "We just couldn't comprehend how it could happen and we were asleep in the house at the time."
Det Supt Nick May said a hammer would not normally be used by burglars and the killer would have known the amount of harm it could inflict when they entered the house.
"It is likely that this person would have a history of violence and this would be known to someone close to them or to a professional who has worked with them, either now or in the past," he said.
The hammer used in the attack was found in Hoe Lane, about 800 yards (730m) from the murder scene.
A £10,000 reward has been offered to find the killer but no one has been charged.
A 22-year-old man arrested in January was freed without charge in March.