Royal Sussex County Hospital's £420m revamp approved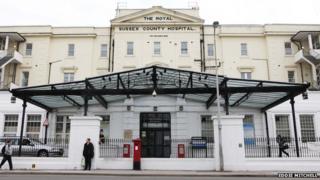 A £420m redevelopment of Brighton's hospital has moved forward after funding was approved by the government.
Old buildings at the Royal Sussex County Hospital will be demolished and specialist facilities built, NHS chief Matthew Kershaw said.
The investment was announced by Chancellor George Osborne in a visit to the city.
Conservative, Green Party, Labour and Liberal Democrat politicians have all welcomed the news.
Mr Kershaw, chief executive of Brighton and Sussex University Hospitals NHS Trust, said the announcement followed the approval of the outline business case, and the trust still had to get final approval of its full business case.
'Fifty-year campaign'
But he said: "The redevelopment will mean that our most vulnerable patients, many of whom are elderly or frail, can be treated in fit-for-purpose, state-of-the-art facilities.
"It will mean that patients across Sussex who need require specialist treatment such as brain surgery, cancer treatment or who have life-threatening injuries can be treated in Sussex, closer to where they live."
He said it was hoped work would begin next year.
Conservative MP for Brighton Kemptown Simon Kirby said: "We've been campaigning on and off for a new hospital for 50 years. There have been lots of plans but it's only today that the money has been available."
Green Party MP Caroline Lucas said: "This is fantastic news for the city and a real success for the cross-party community campaign. Brighton and Hove deserves a 21st Century hospital and a strong NHS that puts the public first."
Lev Eakins, chairman of Brighton and Hove Liberal Democrats, said a couple of years ago Labour was claiming the coalition government was destroying the NHS, but this announcement showed the opposite to be true.
He said the hospital badly needed modern facilities.
Nancy Platts, Labour's parliamentary candidate in Brighton Kemptown and Peacehaven, said the foundations for the work had been laid by the previous Labour government, and assurances were now needed that the money would be quickly released.
Janice Kent, from Central Sussex Independent Patients Forum said the redevelopment was "long overdue".
She said: "If ever a city has needed a new hospital, it's Brighton."