School bus death father calls for CCTV and chaperones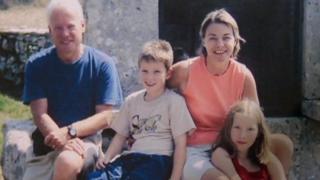 The father of a schoolboy who hanged himself after being bullied on a school bus is calling for greater protection for pupils.
Ben Vodden, 11, was found unconscious in his bedroom near Horsham, West Sussex in 2006 by his father, Paul.
Mr Vodden said: "Some of his peers were calling him names and using inappropriate language towards him."
He has produced a report into bullying and is calling for CCTV and chaperones on school buses.
An open verdict was recorded at the inquest into the death of Ben, who was found in his room in Southwater in December 2006.
At the inquest the bus driver admitted calling him names, but he insisted it had just been "banter".
Speaking to the BBC's Tim Muffett, Mr Vodden said other pupils had been stealing Ben's clothing and other belongings on the bus journey to and from school.
"You don't think about the potential for something to go wrong on the school bus," he said.
"You probably think you put them on the school bus and everything is fine,"
'Buddy system'
Mr Vodden said chaperones should travel on school buses with pupils.
"Ideally what I'd like to see is another trained adult supervising the children, and the bus driver should be trained as well."
He also suggested a "buddy system" for particularly vulnerable children, with older pupils or adults travelling with them.
Mr Vodden said he was not blaming bus drivers, saying many had not had adequate training.
"There are some schools, some bus companies and some local authorities who are doing wonderful things, but that needs to be spread among the whole industry," he said.
Richard Bamber, the owner of bus firm Anthony's Travel, which is backing the plan, said: "The driver can't police 48 children and also drive the coach effectively and safely.
"From time to time people have different interpretations of events. You are able to watch the footage and find out the truth within a matter of minutes."