12 May 2014: Mass Observation Archive seeks one-day diary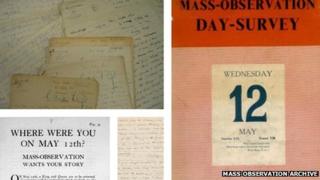 People across the UK are being urged to chart their opinions, feelings, and experiences in a one-day electronic diary throughout Monday.
It is the fifth consecutive year that the Mass Observation Archive, based at the University of Sussex in Brighton, has asked for the diaries.
It is has been recording everyday life in Britain since 12 May 1937 - the day of King George VI's coronation.
The diaries are all stored in the university's archive at The Keep.
'Ordinary day'
They are used for research, teaching and learning by academics and students, schools, writers, producers, artists, community and special interest groups and the general public.
In 1937 people were asked to record everything they did from when they woke up in the morning to when they went to sleep at night.
The Mass Observation Archive said 12 May 2014 was likely to be quite an ordinary day for many.
However, for those researching the "ordinary, it often provided extraordinary results".
Details of how to take part can be found on its website.