Local elections 2014: Is Sussex a key battleground?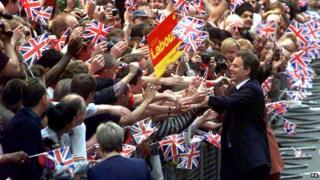 With European and council elections taking place this Thursday - a year ahead of the next general election - the key major parties might well keep a close eye on how they do in Sussex.
When political maps of the UK are drawn up, the South East tends to be dominated by blue.
It is easy to think of Sussex as a country dominated by the Conservatives - but it is not always the case.
Brighton and Hove has a council controlled by the Green Party and Caroline Lucas became the country's first Green MP when she won a seat in the city in 2010.
Eastbourne and Lewes both have Liberal Democrat MPs, while the borough council in Hastings has been led over the past 20 years by the Conservatives, Liberal Democrats and Labour - who will be hoping to retain control when the town goes to the polls on Thursday.
In the 1997 general election parts of Sussex without any traditional Labour support turned red overnight.
They stayed this way up until the 2010 election, when the Conservatives regained control of most of their seats in the county and the Greens won Brighton Pavilion.
But what would success this year say about Labour's chances in the 2015 general election?
Hastings and Rye got its first Labour MP in 1997 when Michael Foster unseated the Conservatives' Jacqui Lait with one of the major swings that helped make Tony Blair's victory such a landslide.
Louise Stewart, the BBC's South East Political Editor, said: "Although Hastings now has a Conservative MP - Amber Rudd - the council is currently Labour-led. Ed Miliband said after last year's local elections he was pleased with the gains Labour had made in Hastings and more broadly across the south.
"Labour currently has 23 seats in Hastings, compared to the Conservatives' eight and UKIP's one.
"They're hoping to make gains in Hastings again as it's one of their key target seats at next year's general election."
Crawley is another Sussex town that voted in its first Labour MP in 1997, only to eventually return to the Conservatives. Foreign Secretary William Hague was campaigning in Crawley on Friday and a day later Ed Miliband was in town.
Ms Stewart said: "A third of seats are up for election in Crawley and Labour are fighting hard here - it's another of their key targets at the next election.
"Ed Miliband has made several visits to the town in recent months. And it was Crawley that the Shadow Chancellor Ed Balls chose as the location for his party's South East local election launch this year.
"During the visit he said Labour had 'a real chance' of taking control of Crawley Borough Council at these local elections."
Worthing and Adur, also both in West Sussex, are the two other councils in the county with elections. They are both dominated by Conservatives.
If the Conservatives are to turn their role as major party in a coalition into an outright majority at next year's general election they will want to retain the seats they won back in 2010. So how much of a guide to next year's fortunes in Sussex could this year's results be, for the Tories, their coalition partners and indeed for UKIP?
"UKIP will be pushing hard to build on the single seats they have on Hastings and Crawley councils," said Ms Stewart. "Although they have so far found it easier to make gains in Kent than Sussex.
"For the Liberal Democrats their electoral prospects look challenging. They don't have a single councillor on Hastings or Crawley councils and if - as is predicted - they're punished for their role in the Coalition, they look unlikely to make gains."