Armed robber threatens Rustington shop staff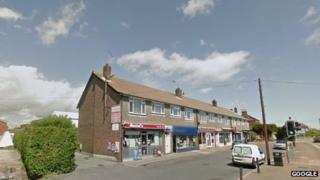 A shop worker was held up at gun point during a robbery at a newsagents in Rustington, West Sussex, police said.
The man, who was wearing a crash helmet and carrying a firearm, robbed Maxted's Newsagents in Worthing Road at about 17:20 on Wednesday, Sussex Police said.
He threatened a member of staff and demanded money from the till before leaving on foot with cash.
The robber was described as between 5ft 10in and 6ft tall and wearing a blue hooded top.
Any witnesses are asked to contact Sussex Police.