Former Chris Evans pub the Lickfold Inn is sold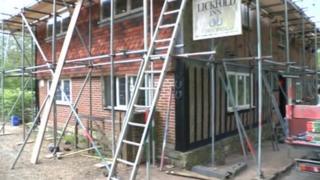 A Grade II-listed pub once owned by presenter Chris Evans has been sold and is undergoing renovation after spending almost four years boarded up.
Mr Evans bought the Lickfold Inn near Midhurst in West Sussex in 2007, but shut it three years later, saying it was not viable.
Residents have been campaigning to have it reopened since 2010, and even started a bid to buy it themselves.
The new owner is believed to be a London-based company.
The firm, which has not yet gone public, confirmed it intended to run the business as a pub and restaurant, which is likely to open in August.
Chris Marks, from the Save the Lickfold Inn campaign, said the pub had been made an asset of community value, which meant it could not be sold for six months.
"And then we looked for other people to buy it, it was re-advertised and now of course has been sold," he said.
"Everybody is very positive because it looks as if it's somebody who's going to make it into an excellent restaurant, and it will be here to serve the community."