Sussex Police targeted Ibiza-bound drunk Gatwick flyers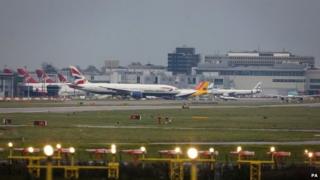 A scheme to tackle drunk passengers at Gatwick Airport has seen alcohol-fuelled incidents fall, it has emerged.
The results of the initiative, which saw Sussex Police patrol airport bars, restaurants and some flights will be presented at a conference next month.
Police worked with Monarch Airlines to target late evening flights to Ibiza.
The conference programme said last summer's scheme saw a 50% fall in alcohol incidents. Monarch could not confirm the figure.
A spokeswoman for the airline said statistics were still being gathered from crews' flight reports, but alcohol-fuelled incidents had "greatly reduced".
Checks on 'demeanour'
Jean Irving, licensing and public safety manager for the force, said pubs and bars had brought in extra measures to ensure alcohol was not sold to people who were getting drunk.
Some passengers were advised if they had too much to drink they might not be allowed to travel, she said.
Airport staff had also been encouraged to check passengers' demeanour and officers had patrolled a number of flights.
Sgt Mathew Scanlan said airline crews had the final say on whether people would be allowed to fly, but the police were able to provide information to staff at the boarding gate.
"We all want people to have a drink and enjoy their flight, but it's about just not starting a party a little bit too early, and being aware that at altitude the effects of alcohol increase - so two pints can potentially become four pints at altitude," he said.