Bexhill-Hastings link road dust 'harming' businesses in Sidley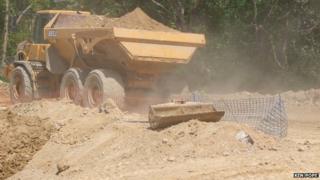 Dust caused by the construction of the £113m Bexhill-Hastings link road has forced shoppers to stay away, say traders.
Works on the road in the Sidley area of Bexhill, combined with dry weather has caused clouds of dust.
Businesses have said that trade is down and have blamed the dust and traffic congestion from the site.
East Sussex County Council admitted there had been problems but businesses would benefit from the link road.
Denis Parkinson, who has run a carpet and furniture shop in Sidley since 1976, said the effect on the area from the construction work had been "dramatic".
"We're about £40,000 down in turnover from the previous year," he said.
'Apologise'
Jay Carroll, who runs a greengrocers in the village, said his trade had also been affected.
"The dust problem has been massive because of the dry weather, with no rain to wash it away.
"I made calls to councillors and environmental health and yesterday a team of cleaners came up here.
"It has been very dusty and dirty. It has been horrible," he said.
Carl Maynard, who is East Sussex County Council's member for highways and is speaking on behalf of the contractor, Hochtief Taylor Woodrow, admitted there had been problems.
"Certainly we want to apologise for any disruption to local residents," he said.
"We've worked very closely with all the interested parties to make sure that we mitigate the effects.
"But let us look a little bit longer term. When north Bexhill comes to pass when the new dwellings are built and new businesses are built, that's got to have a long-term tangible benefit for the traders of Sidley."