Hastings fire: Three tried to catch jumping woman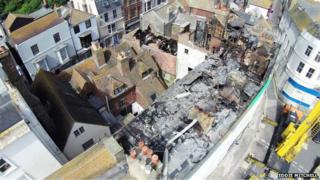 Three people tried to catch a 66-year-old woman using a sheet or duvet as she jumped 40ft from a burning building in Hastings, Sussex Police said.
The blaze at the properties in Marine Parade in the Old Town, was reported at about 00:30 BST on Sunday.
Six properties were seriously damaged by the fire, with about 35 people escorted from the buildings.
The woman remains in a critical condition in hospital after suffering spinal, pelvic and ankle injures.
She jumped from a second-floor window and fell into an alleyway below.
Det Sgt Suzy Joseph said: "We would like to speak to any witnesses, and in particular to three people, believed to be men, who held out a bed sheet or duvet the woman had thrown down, to try to break her fall.
"They left the scene without giving us their details."
Those evacuated were initially taken to the Boat House on Hastings seafront and then transferred to the East Hastings Sea Angling Association.
Hastings Borough Council said those affected will be rehomed.
The cause of the fire is not yet known.