Brighton's Royal Pavilion refused funding by Heritage Lottery Fund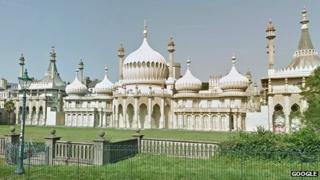 A £35m revamp of Brighton's Royal Pavilion, Dome and Corn Exchange has taken a hit after the Heritage Lottery Fund (HLF) refused to fund the plan.
The proposal is to restore the historic buildings, possibly create new ones and tie the history of the pavilion to the other buildings.
The project requested about £14m from the HLF after already securing £6m from the Arts Council.
The HLF said demands for its cash in 2014 were "higher than ever".
The team behind the Pavilion bid said they would apply to the HLF again.
Indian and Chinese styles
Janita Bagshawe, director of the Royal Pavilion and Museums, said: "We need to not lose sight of our ambition to transform and revitalise a world class heritage site at the heart of Brighton and Hove.
"We will continue to work with HLF and our partners to develop the long term plan for the Royal Pavilion estate and to secure the funding to do so.
"It is the symbol of the city and deserves to be a place that everyone can experience and enjoy."
The palace, a mixture of Indian and Chinese styles, was built for the Prince Regent, later King George IV, between 1787 and 1823.
It was designed by a team of architects led by Sir John Nash, who also designed parts of Buckingham Palace.
Katie Owen, from the HLF, said: "Demand for [funding in] 2014 was higher than ever and the success rate for this particular round of decision-making was 30%.
"We simply did not have enough money to support all the applications we looked at on the day.
"We have already met with the Royal Pavilion Museums Brighton and Hove team to give feedback on our decision."