Razor blades in Burgess Hill food bank donations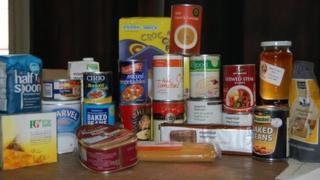 Razor blades and dirty cat litter have been found in items donated to a food bank in West Sussex.
Volunteers at Burgess Hill Community Food Bank found disposable razor blades in a box of sage and onion stuffing and cat litter in a coffee jar.
Chairman Fr Kevin O'Brien said he believed it was a malicious act and was carrying out an internal investigation.
He said the contaminated packages were picked up during routine checks of donations and not handed out.
Bags of food to feed recipients for three days are distributed from the Spire Cafe at St John's Church.
To qualify, recipients have to first collect a voucher from agencies including Sussex Police, Job Centre Plus and Burgess Hill children and family centres.
Unknown motive
Fr O'Brien said every item donated was inspected in case any were out of date or damaged.
"We were not anticipating this but the systems were able to pick it up," he said.
"It is impossible to ascribe a motive to that sort of behaviour.
"I can't imagine why anyone would do that other than having something either against a food bank or against the clients of food banks.
"I hope this person will think again and not judge those who use food banks but realise they are just ordinary people who sometimes hit difficulties."
He said the food bank may have no choice but to involve the police following its own investigations.