Policing March for England in Brighton cost £500k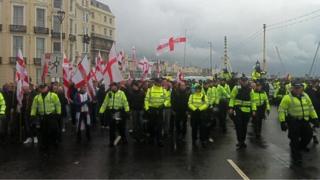 More than £500,000 was spent on policing this year's March for England in Brighton.
Sussex Police released figures for how much it cost to provide staff, barriers plus overtime to ensure safety at the annual event which took place in April.
The force provided 1,325 police officers, 12 horses with riders and 16 dogs plus their handlers with the overall cost being £545,000.
The nationalist march began in 2008 and attracts counter-demonstrations.
'Scrutinise our plans'
A total of 27 people were arrested during the march, which involved about 200 people.
Three people were charged on the day for a variety of offences with a further two people charged after the event, which was on 27 April.
In 2013, police made 20 arrests for public order offences, affray, assault, theft and criminal damage.
Geoffrey Theobald, leader of the Conservative Group on Brighton and Hove City Council, said: "One expects the police to have to protect residents and such like when we have these organisations coming to our cities but it does seem a bit over the top."
'Disorder was prevented'
"The cost is not just the £500,000, there is the cost to the trader and business people who lose so much money on this sort of day and this has been my main concern."
Chief Supt Nev Kemp, Brighton & Hove divisional commander, said: "We assessed the resourcing necessary for March for England and counter protest based on our experience and the intelligence we received over the planning period.
"We went further in asking experts outside of Sussex to scrutinise our plan, the number of officers being used, and help shape the final operation and resourcing.
"All the officers on the operation were deployed at various stages, ensuring prolonged disorder was prevented, along with damage and any serious injury, and this resourcing helped us achieve our objectives."