Saltdean Lido opens its doors for fundraising tour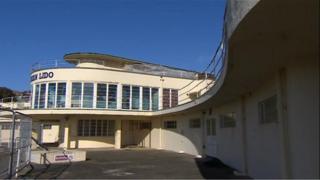 A listed open air swimming pool which has fallen into disrepair has been opened to the public for a behind-the-scenes tour.
The Saltdean Lido Community Interest Company, which has taken over the pool and is raising £5m for its restoration, hopes to reopen it in 2016.
The 1930s art deco structure is the UK's only Grade II* listed lido and one of three remaining seaside sites.
Sir Terence Conran's design firm will restore the lido.
The Saltdean Lido Community Interest Company was given a 60-year lease to operate the pool after plans to partly demolish it were rejected.
Visitors will be able to view the original plant room from the 1930s and the roof rotunda terraces, which have not opened to the public for over 10 years.
In February, the Social Investment Business announced it was to give just over £60,000 to help restore the building, which is on English Heritage's At Risk register.
A major fundraising drive to secure the rest of the money continues.