Goose and duck stolen from Hailsham pond 'were shot'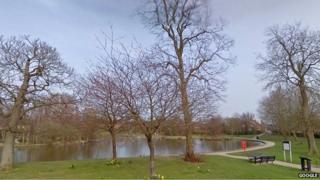 A goose and a duck have been taken from Hailsham pond, possibly after having been shot, Sussex Police say.
The attack was one of a number of incidents in the last few weeks in which a picnic table and chairs were set alight, property damaged and an ornamental tree destroyed.
A police spokesman said the birds had been "deliberately targeted".
Anyone who witnessed the incidents in the Station Road area of the town is asked to contact police.
The spokesman said the attack on the birds had been reported to officers while they investigated the burning and removal of the picnic table and chairs from the area surrounding the pond.