RSPCA plea after owl rescued from fishing wire in Hastings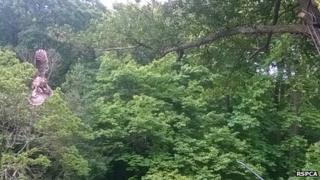 The RSPCA is urging anglers to dispose of their fishing litter properly after a tawny owl was found dangling from a tree at a lake in East Sussex.
A dog walker spotted the female bird at Alexandra Park, Hastings, on Saturday, with a piece of wire wrapped several times around its wing.
The owl is thought to have been there overnight.
Firefighters and an RSPCA inspector rescued the bird, which was uninjured, and released it back into the wild.
RSPCA inspector Cora Peeters said: "This lake is a particularly bad spot for fishing litter - line is almost like cobwebs caught up in the branches of the trees.
"We often end up rescuing all kinds of wildlife from this area - and they are not always as lucky as this owl."