Bee orchid surprises Kew experts at Wakehurst Place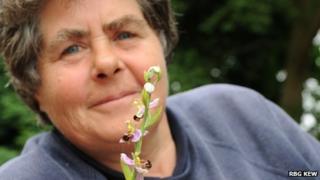 A native wild flower has surprised experts by growing on highly acidic clay soil at Wakehurst Place, Kew's country garden in West Sussex.
The bee orchid, usually found on chalk downland in southern England, has appeared near the attraction's visitor centre.
A spokesman said the orchid has self-seeded and spread into a "thriving colony" on the premises.
"The most spectacular array yet" was produced in 2014, he added.
"Each year more of their intriguing blooms are appearing in a soil type they shouldn't be thriving on," said horticulturalist Trudy Ede.