Camelia Botnar Children's Centre gains short term funds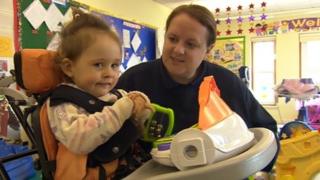 A centre for children with special needs and life-limiting illnesses which was facing closure has received short-term funding to keep it open.
West Sussex County Council has agreed to fund the Camelia Botnar Children's Centre in Goring-by-Sea until the end of the year.
The centre had announced it would close in July as it could no longer afford its annual £250,000 running costs.
It has relied on donations since becoming independent in 2009.
The centre, which has 20 professional carers, was previously funded by the Camelia Botnar Foundation.
'Over the moon'
Peter Evans, a cabinet member for West Sussex County Council said: "The centre provides an amazing service which so many families in the county rely on.
"We are grateful for the contribution the centre has made to the community for so many years," he added.
Trustees for the centre said they were delighted to receive the funding and were now looking at ways to keep it open beyond December.
Chairman Philip Bush said he hoped the money would "act as a platform for both organisations to work closely together" to provide a better educational service for pre-school children with special needs.
He revealed that families who used the centre were "over the moon" to hear that it would not close.