Maternity services moved from Eastbourne to Hastings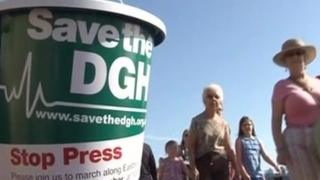 Health bosses in East Sussex have agreed to permanently switch consultant-led maternity and paediatric services from Eastbourne to Hastings.
There will be just one specialist unit, with maternity services at Eastbourne District General Hospital downgraded.
The local Clinical Commissioning Group said there would be midwife-led units in Eastbourne and Crowborough.
Last year the services were temporarily moved to Conquest Hospital in Hastings after "staff shortages" at Eastbourne.
Warning of 'catastrophes'
Doctors at Eastbourne had warned that the new services were unsafe.
Nine consultant paediatricians wrote a letter saying there was a risk of "catastrophes and serious failure".
The announcement follows eight years of campaigning to try to keep a full range of consultant-led services there.
Hospital bosses said the decision will make mothers and babies safer, but local campaigners claim it will put lives in danger.
The distance between the two hospitals is 20 miles (32km), but Eastbourne's Liberal Democrat MP Stephen Lloyd said the road network was "deplorable".
"Even with blue lights it can take on average 45 minutes. By public transport it can take anything up to two hours," he said.
Kirsty Peyton-Lander gave birth to her baby in a car, travelling from Eastbourne to Hastings because she needed the expertise of a consultant during labour during the temporary switch of services last year.
'Lives at risk'
She described the decision to permanently switch services as "horrendous".
"They're putting lives at risk," she said.
Heidi MacVean had complications during her labour at Eastbourne and because there was no consultant had to be transferred to Brighton.
She said it was vital that Eastbourne had a consultant-led maternity service as the town was "the fastest growing in the county".
NHS bosses have said under the old system - where consultants were shared across both Eastbourne and Hastings - there were 17 serious untoward incidents out of 4,000 births.
Since they switched last year to consultants in Hastings and a midwife-only unit in Eastbourne the figure had come down to five incidents per 4,000 births.
Dr Martin Writer, chair of Eastbourne, Hailsham and Seaford Clinical Commissioning Group, said the decision made on Wednesday was "the best that we could have come up with".
He added that the number of emergency births outside hospital were "a tiny majority".