East Sussex bus cuts 'would leave people stranded'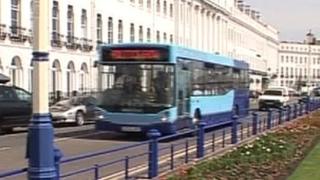 Proposed cuts to bus services by East Sussex County Council are "deeply regressive" and would leave people stranded, campaigners have warned.
Suggested changes would see some buses running twice a week instead of daily while some Sunday services would be stopped altogether.
The council said the cuts, which could affect 62 bus routes in the area, would save £1.79m over two years.
Lewes MP Norman Baker said the proposals were "unacceptable".
He called for the plans to be altered and accused the council of having a "slash and burn approach" to public transport that would leave residents in some villages stranded.
Campaigners for better public transport have suggested the proposals would leave people in rural areas isolated.
Travellers unaffected
East Sussex County Council currently subsidises the bus services which are run by private companies.
It said cuts to local government budgets meant less money was available to spend on public transport but the changes would leave the majority of travellers unaffected.
It claims of the 7,500 passengers who use the services each week, 91% would see no change while 95% of people would still have access to a six-day service.
Proposed alterations to routes include changing the daily bus service from Eastbourne to Seaford to twice a week.
The route between Bexhill and Conquest Hospital in St Leonards-on-sea would run every two hours instead of every hour, while the Tunbridge Wells to Hastings Sunday service would be cut entirely.
The proposals will be discussed by the council's cabinet on 1 July and if accepted will be put forward for a 12-week public consultation.
The bus companies have not confirmed how services would be altered if the subsidies they currently receive are cut.