Jimmy Savile not behind East Grinstead hospital attack, report finds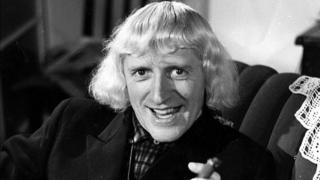 An attack on a patient at a hospital in 1954 was probably not carried out by Jimmy Savile, a report has found.
The Queen Victoria Hospital in East Grinstead was one of 28 hospitals looked at by investigators examining the disgraced former DJ's sex abuse.
Investigators did not doubt the claim the woman had been attacked but thought Savile was not involved, they said.
Meanwhile it has been announced a new inquiry will look at claims Savile committed abuse at Crawley Hospital.
The results of the investigation at Crawley Hospital, and another at Springfield Hospital in London, are expected to be announced in the autumn.
'Looked like Savile'
Savile, a Radio 1 DJ who also presented the BBC's Top Of The Pops and Jim'll Fix It, died aged 84 in October 2011 - a year before allegations that he had sexually abused children were broadcast in an ITV documentary.
The Department of Health appointed Kate Lampard QC to oversee the individual independent hospital investigations.
The investigators found he sexually assaulted victims aged five to 75 in NHS hospitals over decades of unrestricted access, with the most detailed reports relating to Leeds General Infirmary and Broadmoor psychiatric hospital.
The investigation at Queen Victoria Hospital was prompted by the allegation by the woman, who was a patient in her 20s in 1954.
The report said: "The patient had good recall of the incident and was able to name staff that had cared for her at the time. She specifically stated that her assailant had been named 'Jim' and looked like Savile.
"The victim said that as she recovered from her operation someone wearing a green gown, cap and a mask around their neck put their hands beneath her gown and inappropriately squeezed and handled her chest."
It said the woman said the man who attacked her had not been one of the staff she had met previously.
Medical records confirmed the woman had been treated in the hospital on the day she alleged she was attacked.
But the report said the main challenge had been the fact 60 years had passed. Two staff known to have worked at the hospital in 1954 were interviewed but most others were known to have died.
It said examinations of archives found no evidence Savile had visited the hospital at any time and investigators noted he lived in the north of England in 1954, while accepting he took part in wrestling and cycling, which both involved travelling to other parts of the country.
Police have told the hospital no further investigation will be undertaken.