A27 coastal road 'should be a dual carriageway', group claims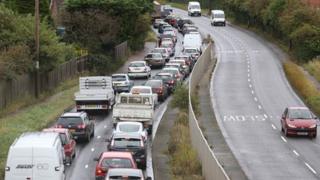 Sections of a major trunk road along the south coast should be made a dual carriageway, campaigners have said.
The A27 Action Group wants the whole road to be improved, with construction of a bypass for Arundel in West Sussex.
The West Sussex County Council leader said the A27, which runs from Sussex to Wiltshire, was "stop-start" and nearby village roads ended up gridlocked.
Louise Goldsmith said MPs, councils, residents and businesses had supported the campaign despite some protests.
The A27 runs for more than 100 miles from Pevensey, near Eastbourne in East Sussex, through West Sussex and Hampshire to Whiteparish, near Salisbury in Wiltshire.
It serves major cities and towns including Brighton, Chichester, Portsmouth and Southampton.
'Perfect time'
Ms Goldsmith said: "We want to attract businesses here. People want to stay. It's a beautiful county... we've got everything but we haven't got a really decent A27 east to west."
She said the government was currently assessing six road schemes including the A27 corridor and this was "the perfect time" to lobby for investment.
Ann Swain, from the Federation of Small Businesses, said journeys that should take 40 minutes had taken up to three hours, and any business with clients outside its immediate area was affected by A27 congestion.
But Steve Ankers, policy officer from the South Downs Society, said all proposals had to be questioned and challenged.
"If you go in for major new road building, whether it's within the park itself or just nearby, that's going to have quite a visual impact on people enjoying the [national] park," he said. "You'll hear the noise and the traffic and everything else, so that would be something we'd have to look at quite closely."
Arundel resident Kay Wagland said the A27 did get "clogged up" but building roads led to more roads and destroyed the countryside and wildlife.
She added that the campaign launch heard a complaint about a three-hour journey from Portsmouth to Worthing, and said: "A train would have taken 55 minutes."